Update: 10:15 PM IST: The site is back on Google and has its pages indexed on Google.
Reports are coming in that JustDial.com, among India's largest local search engines, has been removed from Google search results as of June 20th 8 PM IST. If you were to type "site:justdial.com" in Google search results, Google is not serving more than 4 results, indicative of a wipeout from Google search results. According to SimilarWeb, JustDial gets ~90% of its traffic from Search engines and this is likely to have a major impact of JustDial's traffic.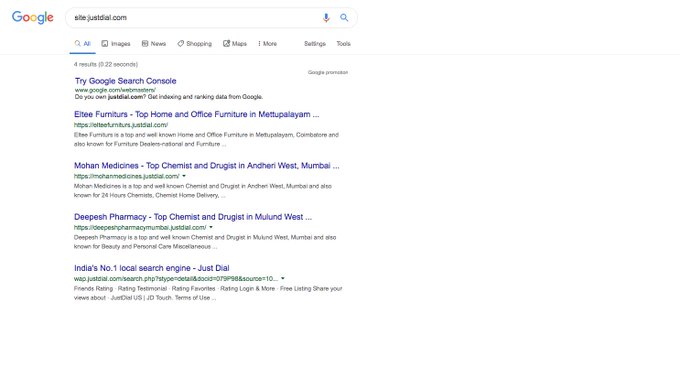 It is not clear if this is a result of any update on Google's end or an inadvertent manual de-indexation through Google's webmaster's tools. Either way, the impact on JustDial is likely to be severe unless they manage to reverse this.
This incident was first discovered Suumit Shah, a prolific SEO consultant based out of Mumbai, India. Suumit tweeted "It seems that someone has de-indexed the website from Webmaster Tools of Justdial.com accidentally, but if this is a penalty from Google – I would say Google is definitely misusing the power of "monopoly". Thousands of small/mid sized businesses (which are ultimately relying on JustDial.com) will face the heat in coming days."
JustDial.com is among the first search engines in India and pride in calling themselves "India's first local search engine". They have received over 80M USD in funding so far and are ranked 35 in terms of traffic by Similar web. They advertise heavily on TV media and are best known for their ads featuring Bollywood stalwart Amitabh Bachhan and advertising themselves as the only app you need. In some sense, they are a direct competitor to Google. This is yet another reminder on how large an impact Google has on very large online businesses in India.
This is a developing story and we will update as we have further developments.